Why Choose JVA?

JVA is a dynamic young Australian company whose focus is on delivering good value, high quality Electrified Fencing Components by leveraging our many years of marketing, design and manufacturing experience. Our aim is to deliver exceptional value products made universally available via the World Wide Web, and backed by local service.

JVA's range of Electric Fence Energisers are designed for the Australian environment by Australian Engineers. Years of design and research have gone into making these as powerful, safe and reliable as possible. The functionality of our Energisers is expandable through the addition of TCP/IP, GSM and other monitoring solutions.

If customers ever need help with an Energiser, we can give them access to speak directly to the team of engineers that designed the Energiser. Now that is support!

At JVA Technologies Pty Ltd, we provide the following Products and services to our clients:

Security Software

Agricultural Products

Solar Powered Energisers
Safe and Cost Effective Deterrent
Electrified fences offer a less expensive and more effective method of animal control. They are lighter, faster and less expensive to erect, yet because the animals do not like to touch the fence they can be very long lasting. Many farmers have also realized the benefits of improved pasture management by using Strip Grazing fencing or Cell Grazing techniques. Electric Fences for cattle, horses and sheep have been used since the 1960's. They are safe and effective, for example using electric horse fencing reduces the risk of injury when compared to barbed wire. Modern energisers are also very reliable and although they generate up to 10,000V, they are inexpensive to run, drawing less electricity than a single 100W light bulb. There are three basic power options; mains electric powered energisers, 12V dc battery powered energisers and solar powered. The JVA MB range can be powered from mains, battery or solar. Solar Electric Fencing is the best method of providing power to fences in remote areas. It also allows the energiser to be situated in the middle of the fence which improves the performance compared to powering from one end of a long fence.
Web Server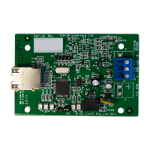 Would you like to be able to control your electric fence from your mobile phone? While most electric fencing products like electric fence tape and wires are low tech, we also work at the cutting edge. Over the years we have had many requests from farmers to allow them to get an alarm on their mobile phone or an email if the electric fence develops a fault. With the JVA ZM1 monitor and PAE212a Web server this is now possible. The JVA Web Server provides Ethernet/Internet connectivity for JVA Z-Series Electric Fence Energizers and Monitors. Using the web server makes remote control and supervision of energisers is as simple as opening a Web Page in a standard Internet Browser. The Web Server will also send emails on alarm or change of fence condition.
The JVA Web Server allows you to remote control your electric fence from:
- Your PC over your existing local area network (LAN)
- Your web enabled phone or PDA
- Anywhere in the world using the Internet
Electric Fence Fault Finder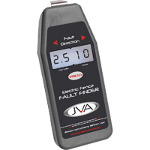 Not just an Electric Fence Voltmeter, JVA's Fault Finder is a directional Fault Finder. With a large clear display the Fault Finder displays peak voltage, peak current and the direction to a fault on all electric fences, irrespective of the Energiser.

The JVA Fault Finder needs no earth connection as it uses the capacitance of the user's hand, meaning there are no wires to get tangled or break. Made by Pakton, the original makers of the 'Power Probe', the Fault Finder features a micro processor and surface mount technologies to make it the easiest to use and the most effective fence fault finding device.